A code-searching tool similar to ack, but faster.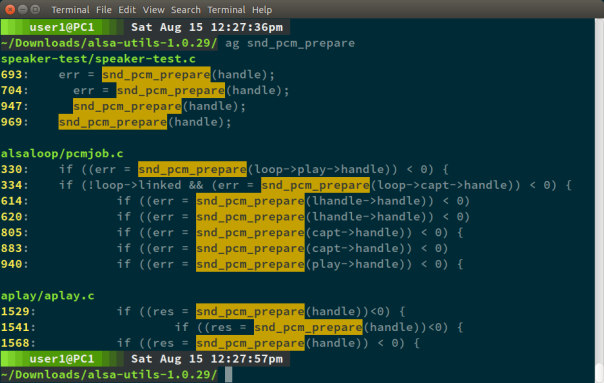 The Silver Searcher is a tool for searching code. It started off as a clone of Ack, but their feature sets have since diverged slightly. In typical usage, Ag is 5-10x faster than Ack. See the GitHub page for more info.
What's so great about Ag?
It is an order of magnitude faster than ack.
It ignores file patterns from your .gitignore and .hgignore.
If there are files in your source repo you don't want to search, just add their patterns to a .ignore file. (*cough* *.min.js *cough*)
The command name is 33% shorter than ack, and all keys are on the home row!
ack test_blah ~/code/  104.66s user 4.82s system 99% cpu 1:50.03 total

ag test_blah ~/code/  4.67s user 4.58s system 286% cpu 3.227 total
Installing
brew install the_silver_searcher
Vim Integration
You can use Ag with ack.vim by adding the following line to your .vimrc:
let g:ackprg = 'ag --nogroup --nocolor --column'
or:
let g:ackprg = 'ag --vimgrep'
Which has the same effect but will report every match on the line.
The Silver Searcher Speed Graphs